CASMARA – Cosmetics without limits.
Skin Sensation Treatment
Gold Mask 2080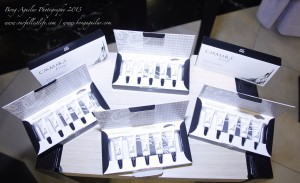 Throughout history, gold has been used in jewelry and cosmetics, from the Egyptians to the Aztec's gold was believed to have magical properties of youth and vitality. Historians have proven that the exquisite queen Cleopatra slept in gold mask every night to enhance the suppleness of skin and increase her complexion's luster. In ancient Indian's Ayurvedic natural healing system, gold is a key ingredient of facial mask for skin firming. Also in ancient Rome, warriors compressed gold on their wounds to speed up the healing process. Gold was regarded as the key to youth in ancient Chinese medicine. Gold can easily be massaged into the skin lending the face a glowing and radiating complexion.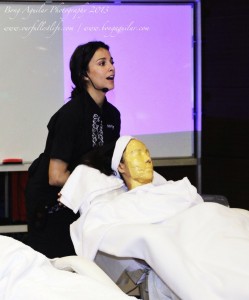 Gold Mask 2080
Casmara Skin Sensation Treatment – Gold Mask 2080 presents various exclusive properties: revitalizing because of the 24 karat gold duct that it contains, mineralizing because of the provision of magnesium, calcium and sodium.
MAGNESIUM: able to latch on to water and improve the permeability of the epidermal barrier.
CALCIUM: modulator of the proliferation and differentiation of keratinocytes.
SODIUM: together with potassium regulates water balance in the tissues.
GOLD: nourishes and revitalizes the skin as it induces the incorporation of mineral nutrients. Gold stimulates collagen and elastin production activating regeneration and speeding cellular process.
The Gold Mask 2080 gives your skin an immediate tightened effect, enhances the skin luminosity, and due to the gold effect, allows other actives tomincrease their effectiveness.
The latest breakthrough of Casmara, Gold Mask 2080 will be a milestone in the beauty industry. Prepare to be amazed with the immediate tightened effect, enhanced luminosity with a vibrant effect after a few sessions.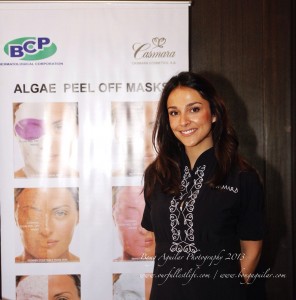 Carolina Serrano
BCP Dermatological Corporation flew in a Casmara Trainor, Carolina Serrano from Spain to do a comprehensive training and demonstration on the latest technology of Casmara – Skin Sensation Line – Casmara Gold 2080. The 3 day event is held on March 25-27, 2013 at Crown Regency Hotel, Makati City.
Unravel the mystery of Gold Mask 2080 in all Diana Stalder centers nationwide.