I have been joining fun run since 2011 and I make it a point to join only Fun Run with a good cause. And AffiniTea's Brown Race is no exception to this advocacy.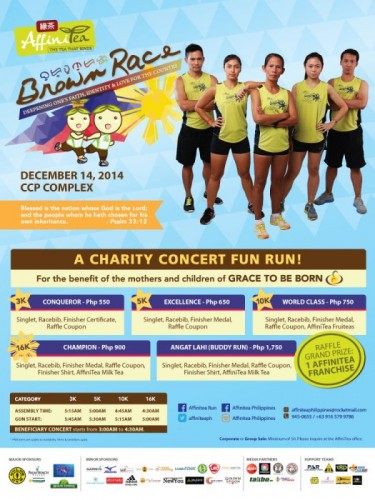 Seasoned fun run participants know all too well that it takes focus, commitment, and preparation to get past the finish line. That is why it is always encouraging and motivating to run with a community. Running activities help reduce stress while earning extra mental health points. Aside from the physical benefits of raising one's fitness and confidence levels, a fun run is also a great way to raise money for charity.
AffiniTea Philippines, the tea that binds, will be boosting the Filipino runner's high through a fun run aptly dubbed as the "Brown Race" at the CCP Complex on December 14, 2014.
The AffiniTea Presents Brown Race aims to deepen one's faith, identity, and love for the country by standing firm to the key characteristics that identify the uniqueness of Filipinos among other races.
The AffiniTea Presents Brown Race will benefit the mothers and children of Grace to be Born Foundation. Grace to be Born (GTBB) is a ministry dedicated to saving the unborn from abortion, providing sanctuary to unwed pregnant mothers in crisis, and temporary shelter for abandoned babies. From 1979 to the present, they have ministered to more than 200 mothers in crisis who lived in the GTBB shelter and delivered babies.
Registration Venues include: Mizuno Outlets in Mall of Asia, Megamall, Hi Street BGC, Trinoma, Ayala Town Center; AffiniTea branches in Leon Guinto St. Benilde – St. Scholastica, CEU Legarda, Binakayan, Cavite, and Dolores, Pampanga; and Health Express – Glorietta.
Registration fee is inclusive of singlet, bib, certificate, and raffle:
3k – Conquerors – Php 550.00
5K – Excellence – Php 650.00
10K – World Class – Php 750.00
16K – Champion – Php 900.00
16K Buddy – Angat Lahi – Php 1,750.00
Get together with your friends and loved ones for this memorable event! You're not just running for yourself but for a mighty cause. Check out http://affiniteaphilipines.com for more information.
Check out this blog for more pictures on the race.
SEE YOU THERE!