If you want big servings, where else can you find here in the metro?  All good things comes in big packages, is what they say.  But it isn't just all that. Have you heard about having a 2 cocktails while paying for just 1? Seriously? Let's check out T.G.I. Friday's New Menu.
T.G.I.Friday's, the first American casual dining chain in the Philippines is celebrating a sizzling start to the summer with a new bar menu. The updated bar list includes a wide array of affordable drinks such as the Ultimate drinks, beer on tap at P60, local bottled beer at P75 and beer by the bucket for only P350.
Cocktails will also be available starting from P125, and includes staples such as the Long Island Tea, Bahama Mama, Kamikaze, and 77 Sunset Strip. To cool down for the scorching summer, the Refillable Mojito is also continuing its run as one of bar's most popular offerings, available everyday at only P295.
Ultimate Electric Lemonade
Jumpstart the party with Premium Vodka,
Sweet & Sour and a jolt of Blue Curacao

Ultimate Margarita
Our signature Margarita made with Margarita
mix, Premium Tequila Gold. It's the Ultimate.

Gold Medalist
This one's a winner! A thick, rich whip of strawberry
purée, banana, grenadine and our own piña colada mix.
The new beverage menu features concoctions to fit every bar personality, whether you're the life of the party or just winding after work which can be found in T.G.I. Friday's New Menu.  To entice patrons to let loose and enjoy the distinct T.G.I.Friday's atmosphere, the T.G.I Friday's Red Card will be available by first week of April, which is a passport for a buy-one, take-one on cocktails every Thursday. The cards will be distributed free of charge to dining guests.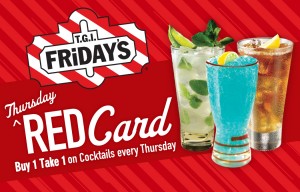 Thursday RED Card
Adding to the excitement is the launch of the first leg of the Stars Behind the Bar tour, which includes a showcase of celebrity bartenders, free drinks, and a chance to learn basic flairs and cocktails.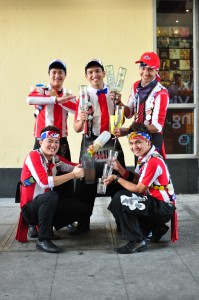 The Stars Behind the Bar 

The featured bartenders went through a rigorous round of auditions, with most being previous participants of the renowned Shake, Rattle, and Pour Bartending Championship, which will be on its 18th year in 2013. T.G.I.Friday's is known for popularizing flair tending, and hosted the first known flair bartending competition in the US in 1985. Patrons are also known to flock the bar to watch bartenders dazzle with flips, flairs, and tricks before drinks are delivered with a personalized touch,  aside from T.G.I. Friday's New Menu.
 Here are the Stars Behind the Bars: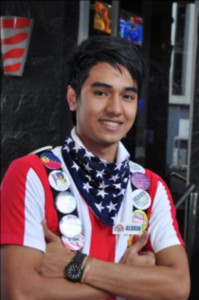 Aldrin "The One" Javar
T.G.I.Friday's TriNoMa
Earning his keep while studying, Aldrin has been to different places, even working in a casual dining restaurant in Singapore. But when he heard about T.G.I.Friday's, this TESDA bartending contest winner immediately came back home and tried his luck. Aldrin not only landed his dream job, he is also on his way to fulfilling his bartending dream.
If he were a drink, Aldrin says he would most probably be a "Rum Runner" because it represents his career and the journey he is yet to face—"An unexpected but exciting one, that is," he says.
Genrev "The Revolution" Bacasno
T.G.I.Friday's Tomas Morato
 GenRev "The Revolution" Bacasno was the champion in last year's TGI Friday's "Shake, Rattle and Pour Bartending Championship!" His excellent showmanship, bartending skills, sunny personality and impressive working flair catapulted him to the top and gave him the chance to represent Friday's Philippines at the Asian Bartending Competition held in Melbourne, Australia last November where he placed 2nd runner up.                                              
Gino "The Bomb" Simbillo
T.G.I.Friday's Marquee Mall, Pampanga
Gino, unlike other newbies, has already joined (and won) bartending competitions. He finds memorable a T.G.I.Friday's-sponsored competition where he was declared champion, besting other student-contenders.
He compares himself to the "Strawberry Mango Lemonade" because of its sweetness with a twist. "Like me, I put a twist in everything I do."
Junjun "The Entertainer" Marcelo
T.G.I.Friday's Malate
When it comes to bartending, JunJun knows how to entertain with winning flair-tending moves, impressive dance steps, funny facial expressions, and of course, the unique music he is known for. He has been handpicked by Department of Tourism to promote "It's more fun in the Philippines" to countries like India and Dubai.
If he were a drink, he would be "The Apple Mojito." Junjun says, "Aside from being one of the popular drinks in T.G.I.Friday's, you can taste the sweetness first but there's a strong kick somewhere."
Michael "Unstoppable"Rabago
T.G.I.Friday's Glorietta 
"I will not allow anybody stop me from achieving my goals," Michael declares. Thus, this engineering graduate seized the opportunity to pursue his passion, bartending. He continues, "Every bartender in TGI Friday's aspires to be the greatest; that's why we compete – to challenge ourselves."
"I'm like the Ultimate June Bug. It's a rich combination of flavors, a marvelous mix of all that is good. I push myself to the limit because I have only one goal: to be T.G.I.Friday's greatest," he declares.
Ronilo "The Showstopper" Bautista
T.G.I.Friday's Mall of Asia
The HRM graduate has dreamt about being a bartender at T.G.I.Friday's since he was in college, inspired by the world-class bartenders that worked at the restaurant. To achieve the dream, he began competing while still in school, eventually winning competitions. He says, "Being asked to join T.G.I.Friday's is where my journey begins to reach my dream – to be doing exactly what I love – bartending."
The T.G.I.Friday's Stars Behind the Bar tour is in partnership with Stolichnaya Vodka. Catch the tour at the following dates and locations: Bonifacio High Street on March 21, April 11 and 25, and May 9; Glorietta on March 22, April 12 and 26, and May 10; Mall of Asia on April 4 and May 16; Eastwood on April 5 and May 17; TriNoma on April 14 and May 4; Malate on April 18 and May 23; Alabang Town Center on April 19 and May 24; Tomas Morato on May 2 and 30; Robinsons Galleria on May 3 and 31.

T.G.I.Friday's is a Bistro Group restaurant, and its latest promo is part of the group-wide Taste the Love campaign.

About T.G.I.Friday's Philippines
T.G.I Friday's is the first American casual dining chain in the Philippines, which opened in 1994. To date, it has 14 branches throughout the country.
For more information, visit http://fridays.com.ph/, like www.facebook.com/welovefridays on Facebook, and follow @Fridaysphil on Twitter.